--
bola.net – Complete schedule and live streaming links Malaysia Masters 2023 match today, Friday (26/5/2023). This tournament was held at the Axiata Arena, Kuala Lumpur, and all the matches can be watched live live streaming via the BWF and RCTI+ YouTube channels.
Indonesia fielded 23 representatives, namely 4 men's singles, 2 women's singles, 6 men's doubles, 4 women's doubles and 7 mixed doubles. A total of 5 of them must go through the qualifying round first.
Malaysia Masters 2023 is the 14th edition of the Malaysia Masters in history, after the first was held in 2009. Along with China, Indonesia is the country with the most titles in this event, namely with 13 titles.
The Indonesian badminton players competing on the court will definitely fight hard in this Super 500 tournament. Apart from making the nation proud, they will also compete for a total prize pool of USD 420,000 or IDR 6.3 billion.
The following is a list of Indonesian badminton players who will compete in the 2023 Malaysia Masters along with the complete schedule of their matches today.
1 of 3 pages
List of Indonesian Badminton Players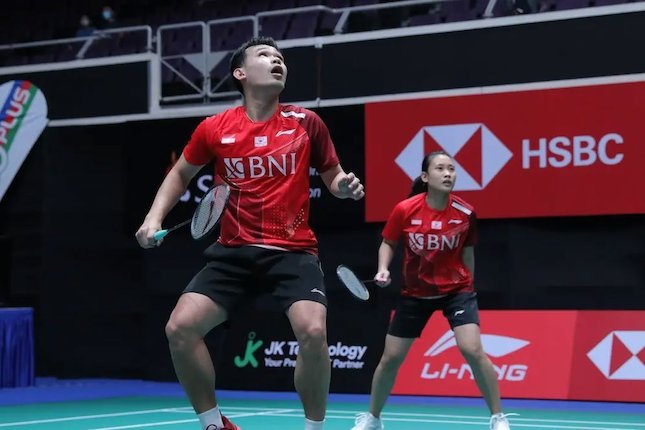 Rinov Rivaldy/Pitha Haningtyas Mentari (c) PBSI
Men's Singles (4)
Anthony Sinisuka Ginting
Jonathan Christie
Chico Aura Dwi Wardoyo
Christian Adinata (Q)
Women's Singles (2)
Gregoria Mariska Tunjung
Princess Kusuma Wardani (Q)
Men's Doubles (6)
Fajar Alfian/Muhammad Rian Ardianto
Mohammad Ahsan/Hendra Setiawan
Leo Rolly Carnando/Daniel Martin
Pramudya Kusumawardana/Yeremia Erich Yoche Yacob Rambitan
Marcus Fernaldi Gideon/Kevin Sanjaya Sukamuljo
Patience Karyaman Gutama/Moh Reza Pahlevi Isfahani (Q)
Women's Doubles (4)
Apriyani Rahayu/Siti Fadia Silva Ramadhanti
Febriana Dwipuji Kusuma/Amalia Cahaya Pratiwi
Lanny Tria Mayasari/Ribka Sugiarto
Meilysa Trias Puspitasari/Rachel Allessya Rose (Q)
Mixed Doubles (7)
Rinov Rivaldy/Pitha Haningtyas Mentari
Rehan Naufal Kusharjanto/Lisa Ayu Kusumawati
Zachariah Josiahno Sumanti/Hediana Julimarbela
Adnan Maulana/Nita Violina Marwah (Q)
Amri Syahnawi/Winny Oktavina Kandow (Q)
Dejan Ferdinansyah/Gloria Emanuelle Widjaja
Praveen Jordan/Melati Daeva Oktavianti
Following live streaming links and the complete schedule for the Malaysia Masters 2023 matches for Indonesian representatives today.
2 of 3 pages
Malaysia Masters 2023 live streaming link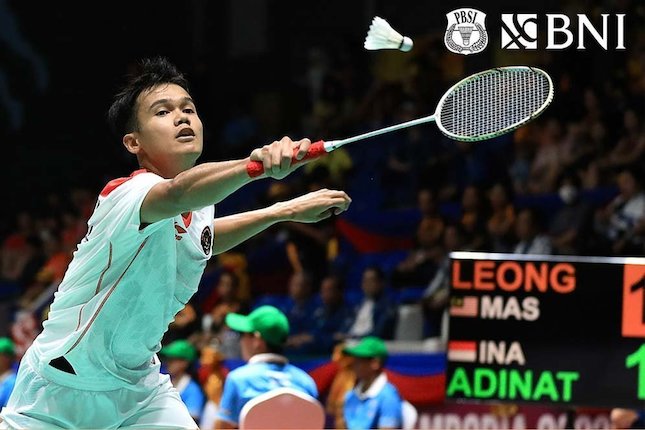 Christian Adinata (c) Doc. PBSI
Bolaneters You can watch the Malaysia Masters 2023 match on various live broadcast platforms, including:
– BWF YouTube channel by clicking on the link https://www.youtube.com/@bwftv
– iNews TV and RCTI+ by clicking on the link https://www.rctiplus.com
ATTENTION: The live broadcast schedule can change at any time without prior notification from the television station concerned and is not the responsibility of Bola.net.
Following is the complete schedule for the Malaysia Masters 2023 matches for Indonesian representatives today.
3 of 3 pages
Quarter-finals schedule
Court 1 – from 08.00
Gregoria Mariska Tunjung vs Wang Zhi Yi (China)
Leo Rolly Carnando/Daniel Marthin vs Aaron Chia/Soh Wooi Yik (Malaysia)
Course 2 – from 08.00
Rinov Rivaldy/Pitha Haningtyas Mentari vs Seo Seung Jae/Chae Yu Jung (South Korea)
Mohammad Ahsan/Hendra Setiawan vs Man Wei Chong/Kai Wun Tee (Malaysia)
Court 3 – from 08.00
Christian Adinata vs Kidambi Srikanth (India)
Apriyani Rahayu/Siti Fadia Silva Ramadhanti vs Jeong Na Eun/Kim Hye Jeong (South Korea)
-