Merdeka.com – The news broke that Deputy Chairman of Commission IV of the DPR RI, Dedi Mulyadi, was sued for divorce from his wife. The news also made the two of them flood the spotlight.
Later, his wife was caught performing on stage. At that time, Dedi Mulyadi's wife sang 'Go Love' to get attention.
What was the moment like? Check out the full review below.
2 of 5 pages
Dedi Mulyadi's wife in action on stage
Dedi Mulyadi is known to be married to a woman named Anne Ratna Mustika. From this marriage, they were blessed with three children.
Like Dedi Mulyadi, his wife is also involved in politics. In fact, the wife, who is familiarly called Ambu Anne, is currently serving as the Regent of Purwakarta.
As a public official, of course, Ambu Anne often becomes wara-wiri on various occasions to community activities. One of them is the moment captured in a short video below.
As uploaded to the Instagram account @net2netnews some time ago, Ambu Anne had the opportunity to make a working visit to the Buruan Urang Overtime area, Cipancur Village, Cibatu District.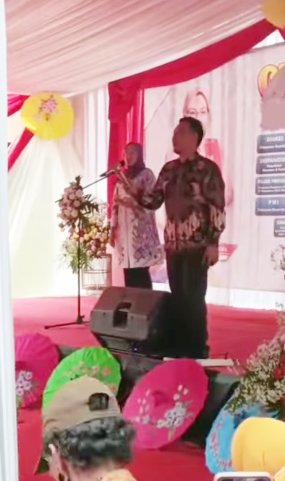 Instagram @net2netnews ©2022 Merdeka.com
Ambu Anne is known to be present at the Gempungan event. According to information, the event took place on Thursday (22/9).
3 of 5 pages
Sing Go Love
In a shirt batik pink, Ambu Anne is seen standing on the stage. Right in front of him, there was a microphone he used to sing songs.
Accompanied by a man in a brown batik shirt, Ambu Anne sounded confident and started to act. It is known, the woman born in Cianjur sang an old song belonging to the late Chrisye.
"The Regent of Purwakarta, Anne Ratna Mustika, sings the song 'Go Love' by Chrisye," the video caption reads.
Every now and then, she seems to shake her head so that she smiles, Ambu Anne continues to sing songs and accompany the music in a melodious voice.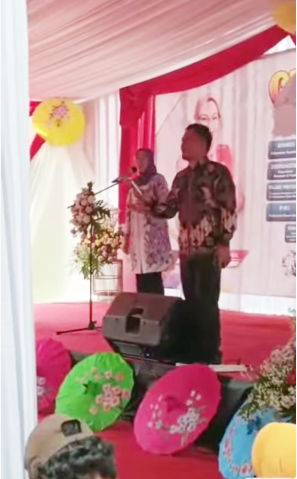 Instagram @net2netnews ©2022 Merdeka.com
"Go darling, pursue what you wish
While there is still time
Do not bother me
I'm willing to part for you
May all your wishes come true," he sings.
4 of 5 pages
Wife Sues for Divorce Dedi Mulyadi
Previously, unpleasant news circulated from the figure of Dedi Mulyadi. The man who was born in Subang in 1971 got a divorce suit from his wife.
This is also supported by an official document submitted by Ambu Anne. One divorce lawsuit with registration number 1662/Pdt.G/2022/PA.Pwk was registered with the plaintiff on behalf of Hj Anne Ratna Mustika and the defendant on behalf of H Dedi Mulyadi.
Ambu Anne's lawsuit was recorded on 19 September 2022 and will only undergo its first trial on Wednesday 5 October 2022. This was confirmed by Public Relations of the Purwakarta Religious Court, Asep Kustiwa.
5 of 5 pages
Videos
A video circulated of Dedi Mulyadi's wife singing the song 'Go Love'. Previously, she filed for divorce from her husband.
Here's the full video you can watch.